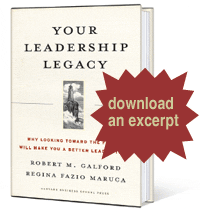 Announcing a New Book from Robert Galford and Regina Fazio Maruca
YOUR LEADERSHIP LEGACY -
HOW LOOKING TOWARD THE FUTURE WILL MAKE YOU A BETTER LEADER TODAY
We're pleased to announce the publication of Your Leadership Legacy (September 2006, Harvard Business School Press).
Perhaps you feel that your legacy is something you'll worry about later in your career, at the edge of retirement. But in Your Leadership Legacy, we argue that thinking about your legacy now makes you a better leader today.
Based on stories of top managers and leaders who have shaped successful careers, the book explores the art of "legacy thinking," helping you to formulate a legacy that will have a positive effect on your work immediately.
The book provides a disciplined approach to framing one's legacy, as well as planning and shaping it over time. Starting with the idea that your legacy is defined by how others approach work and life as a result of having worked with you, the book enables you to:
Assess your current impact on those around you
Identify ways to strengthen that impact, and
Pass along the best of oneself in the process
While many leaders "find themselves" and hone their work accordingly only after a major life crisis, Your Leadership Legacy enables all leaders to craft their work and to build their legacy unburdened by such crises, and to experience both personal satisfaction and achievement throughout their working lives.
Would you like a sneak peak? You're welcome to download an excerpt of the book from our website.
- Rob Galford and Regina Maruca -
~ ~ ~
Please forward this email to your colleagues and friends who are interested in organizational and leadership issues. Your feedback is always welcome at info@yourleadershiplegacy.com.
© 2006 Robert Galford and Regina Fazio Maruca All Rights Reserved
www.yourleadershiplegacy.com