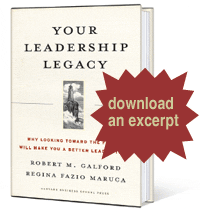 Greetings,
Your leadership legacy is, ultimately, a very personal thing. But it can help to see how others frame their legacies. So, in the past couple of months we've been asking executives to write about their leadership legacies.
Their responses were both gratifying and fascinating.
From high tech to healthcare to professional services, executives are donning their "legacy thinking" caps and sharing their goals for the future.
Rich Marcello, Senior VP & General Manager Business Critical Servers, HP said "...it's not really an easy question if you've never spent any time on it before. At the same time though, it's probably one of the most important questions any of us can answer during our lifetimes..." Be sure to read his very thoughtful blog post Escalating Violence.
Nick Jacobs, CEO/President Windber Medical Center and Windber Research Institute said "It is your responsibility as a leader and as a human being to help to guarantee your organization's future, and it will allow you to both comfortably look at yourself in the mirror and to sleep at night." Read more on Nick's blog.
Zane Safrit, the CEO of Conference Calls Unlimited mused "Why wait to leave a legacy? Why not LIVE a legacy?!?... What legacy am I living right now with every blog post, every conversation, every informal chat walking through our offices..." in his blog post What's frequency got to do with leadership legacy?
Jim Estill, the CEO of SYNNEX Canada, took our invitation to discuss his legacy to heart. First, he discussed his thoughts in his CEO Blog - Time Leadership. Then he wrote the article Your Leadership Legacy, One Way to Set Goals.
Suzanne Lowe, author of Marketplace Masters and President of Expertise Marketing, LLC used the premise of the book to spark the legacy thinking of several leaders in the field of professional services:
Charlie Agin, Vice President, Global Marketing Development, Gen Re
Bill Viehman, AIA, LEED® AP, Principal, Perkins + Will
Ann Althoff, Senior Vice President and Director of Marketing, HOK
Uwe Krueger, Ph.D., Senior Vice President and CMO, Turner Construction Company
Barbara Walters Price, SVP of Marketing, Mercer Capital Management
Tom Markert, Global CMO, ACNielsen
Sally J. Feldman, Director, Marketing & Business Development, Skadden, Arps, Slate, Meagher & Flom LLP
George Friedel, Senior Vice President and Director of Strategic Sales, Parsons Brinckerhoff
Don't miss their quotes and her thoughtful analysis in her newsletter article Leadership Legacies in Professional Services: Distinguishing Your Goals from the Expectations of Others.
Why stop here? What are your thoughts on legacies in general and your own in particular? How could you, like Suzanne Lowe, use the topic of legacies as a catalyst for a discussion within your own professional world?
If you've never been asked to think about this before, consider yourself invited now. We'd love to hear from you.
- Rob Galford and Regina Maruca -
~ ~ ~
Please forward this email to your colleagues and friends who are interested in organizational and leadership issues. Your feedback is always welcome at info@yourleadershiplegacy.com.
© 2006 Robert Galford and Regina Fazio Maruca All Rights Reserved
www.yourleadershiplegacy.com