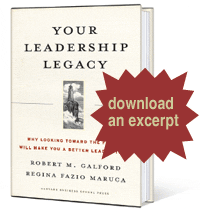 From Football to Formula One: How Scandals Will Scar Your Legacy
Even if you are not a serious sports fan, it would have been hard to escape at least some of last week's news coverage of a spying scandal involving one of the leading teams in professional sports. The largest fines and the most severe penalties in the history of the sport were levied in connection with the unauthorized acquisition and gathering of information about one team by another.
To those of you who have immediately filled in the name of Coach Bill Belichick and the New England Patriots of the National Football League, think again.
>>>Click to continue to Rob's post From Football to Formula One: How Scandals Will Scar Your Legacy on Harvard Business Online.
Be sure to submit your feedback and tell me what you think about the narrow focus these leaders have chosen. Do you think they can they repair the damage?
Legacy Thinking: How To Create A Lasting Difference Through Your Leadership
Most of us never deliberately attempt to learn much about the full scope and scale of our influence at work. Our legacy is something we think of only at the end of our tenure at a firm, or when we're on the cusp of retirement.
What's more, when we do look back, we often measure success in terms of how we helped increase market share, how many new markets we helped the firm enter, or how well we met quarterly sales targets. We rarely see how our work has also influenced people.
>>> Click to continue this article on RainToday.com
Have you taken the leadership styles assessment test?
The Leadership Legacy Assessment Test will help you articulate your natural role with clarity, as distinct from your career path, current position, or the current condition of your company. It will help you sort out the distinctions between your roles and titles, and identify where you get the greatest satisfaction and where your strengths lie. Ultimately, it gives you something to think about as you plan the kind of legacy you want to leave.
The self-assessment has 30 multiple choice questions and will take only a few minutes to complete. Results are 100 percent private, visible only to you. We do not collect any information about you and have no way of seeing your results.
Take the web-based Leadership Legacy assessment test now.
- Rob Galford and Regina Maruca -
~ ~ ~
Please forward this email to your colleagues and friends who are interested in organizational and leadership issues. Your feedback is always welcome at info@yourleadershiplegacy.com.
© 2007 Robert Galford and Regina Fazio Maruca All Rights Reserved
www.yourleadershiplegacy.com