About the Book - Your Leadership Legacy – Why Looking Toward the Future Will Make You a Better Leader Today

Publisher: Harvard Business School Press
Publication Date: September 12, 2006
Approx. Length: 208 pages
ISBN: 1-59139-617-4
Purchase Your Leadership Legacy on Amazon, Barnes and Noble, or Harvard Business Online.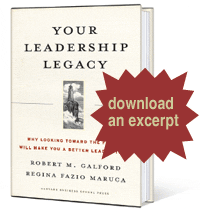 Bulk sales available through
800-CEO-READ
Download an excerpt of the Introduction to Your Leadership Legacy (PDF).
Download the brochure for Your Leadership Legacy (PDF)


A leadership legacy is the impact you have (that is, the scope and scale of your influence on others) over the duration of your time in a given position or at a given company, all colored by the judgment, or guiding principles, that you apply most consistently to your decisions.


Robert M. Galford and Regina Fazio Maruca